Erildas Budraitis
My main advice to future students: stay open-minded
The Lund university experience is: 'an incredibly rich combination of experiences'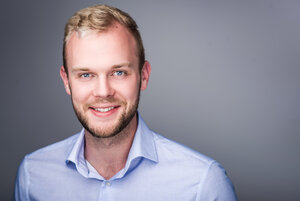 Erildas describes his experience of the programme as exceeding his expectations, and goes on to say 'Think of living in a lively and vibrant student town, rich of Swedish culture and open-minded local community. Studying truly relevant contemporary media courses, which is now essential for any aspiring communications professional with a media landscape that is changing at the pace unseen before'. Erildas also makes sure to mention the people he met in the programme: 'On top of that, the programme also allowed me to become friends with other curious and adventurous people from all over the world who share similar interests as I have'.

On choosing media and communication studies at Lund University
Erildas got his Bachelor's degree in media and communication studies from the University of Leicester. After that, he says, 'I still felt hungry to learn more, while I was also deeply interested in Scandinavian culture. At the time, businesses in Scandinavia were expanding rapidly; people worldwide were keen to learn about the lifestyle there, as countries from this region would always end up at the top of the happiest country rankings. Communication science is deeply related to the deconstruction and understanding of different perspectives. Hence, I wanted to learn how Scandinavian countries communicate: how differently they see and perceive the world in comparison to the UK, Eastern Europe and other markets I was already familiar with. Lund University's reputation, and a programme offering a vast variety of courses addressing contemporary media issues, combined with cultural and local experiences offered by Lund itself, made this an easy choice'. Also, he says, 'the proximity to larger cities such Malmö and Copenhagen offered a greater range of cultural experiences, which complemented the academic learning'.

Erildas main advice to future students: 'stay open-minded'
According to Erildas, Lund provides 'the perfect opportunity to challenge your own thinking by interacting with your course-mates and professors as much as possible'. He thinks it's important to 'stay open-minded and be willing to consider new ideas that will surround you everyday'; because, he goes on, 'experiences that await in Lund and Sweden not only offer a great chance to develop into a better communication professional, but to grow as a human being as well'.

Working as a communication professional
As mentioned, Erildas is working in a global communications and PR firm. After he graduated in 2016, he moved to London. Describing his current job, he says 'I have been implementing and shaping integrated communications programmes for various industry leaders in energy, technology, financial services, as well as consumer products and retail sectors'. The work is varied, which Erildas enjoys: 'No two days are the same in PR; I'm constantly involved in a wide range of activities: it could be jumping on a sudden client call, managing a press briefing with the world's top publications, writing content for motion videos, or finding myself at the UK's biggest PR award ceremony'. He goes on to say 'it's a challenging industry, often requiring arduous efforts, yet very rewarding'.