Rhetoric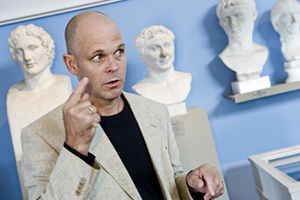 Knowledge of rhetoric is invaluable for everyone working in communication, in jobs related to marketing, law, faith-based professions, politics, journalism, teaching and management.
In our courses you get to practice the art of conviction and persuasion in speech, and written forms, as well as through other tools than langugage. Our courses include both oral and written assigements. You get a chance to work out your speeches and texts with help from your peers and teaching staff. You also learn how to critically assess messages that are made to impact and manipulate. We touch on everything from classical texts to contemporary speeches. We also focus on how rhetoric can be deployed in the analysis of movies, pictures, acting and gestures, which have gained importance.
You will gain knowledge of how classic era rhetoric has developed into our modern times, as well as how to use modern methods and theory of rhetoric. Through the basic terms of classic rhetoric you get to study how to choose and shape arguments for different rhetorical situations, such as a speech or a text, to make it as convincing as possible; as well as how to work with structure and find the most suitable language, style and performance.